Anatomical Causes of Infertility Diagnosed Using Imaging Tests in A Group of 100 Women
Abstract
Background and aims. The demographics of infertility differ dramatically from one region to another. Therefore, details about the causes and distribution of infertility of different localities and regions are essential for any effective management strategy. This study aimed to evaluate the distribution of the causes of infertility in a women population attending a tertiary healthcare facility. Methods. A cross-sectional observational study conducted in a gynecology clinic on female patients who came for infertility consultation or treatment between June -2019 and December-2020. The cause of infertility was diagnosed by the history, examination and investigation. Data were arranged in tables, and the frequency of each factor was calculated and therefore the prevalence was estimated using SPSS 25. Results. secondary infertility (53%) was more prevalent than primary infertility (47%). Pelvic inflammatory disease was the leading cause (40%) and it was associated with tubal factor infertility. Second cause was polycystic ovarian syndrome (PCOS) (33%). Infertility causes changed as the age of marriage increased. In females married for less than 5 years, PCOs was the main cause of infertility. Conclusion. Causes of infertility in women change according to the age group and the age of marriage. This study shows that PID is the most common cause of infertility in females followed by PCO. A significant association between infections and tubal factor infertility was found.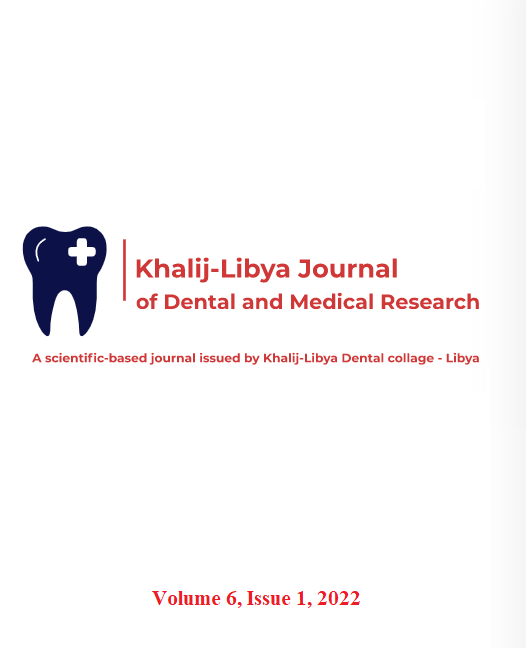 Downloads
License
Copyright (c) 2021 Khalij-Libya Journal of Dental and Medical Research
This work is licensed under a Creative Commons Attribution-NonCommercial 4.0 International License.