Knowledge of Libyan Mothers in Tripoli about Emergency Management of Dental Avulsion
Abstract
Background and objectives. Traumatic dental injuries (TDIs) frequently occur in society and may occur at home. The ultimate prognosis of an avulsed tooth occurring in a child may depend on the parents' knowledge of appropriate emergency measures. Therefore, the purpose of this study was to evaluate aware-ness level of Libyan mothers regarding traumas & emergency management of dental avulsion. Material and methods. A cross-sectional study was carried out by means of questionnaire-based survey. 1397 mothers had participated in this study. The questionnaire was distributed in 11 elementary schools from different regions in Tripoli during four months in 2022. A questionnaire comprising 13 questions in simple Arabic language was used. The data was collected and analyzed. Results. A total of 1397 mothers were participated in the study, only 13.9% were aware of self-dental reimplanting permanent avulsed tooth. Their knowledge of transport medium for the avulsed tooth was poor, only 12.1% identified milk as an appropriate medium, and only 20.9% would clean the avulsed tooth with tap water. The increase in the percentage of who choose the right option was significantly associated to the increase in the mother's level of education. There were 47.7% of mothers who had a previous history of dental trauma for their children. Conclusion. This study showed an insufficient awareness regarding tooth avulsion among Libyan mothers. More efforts should be applied for conducting oral health educational campaigns aimed at improving parents' knowledge.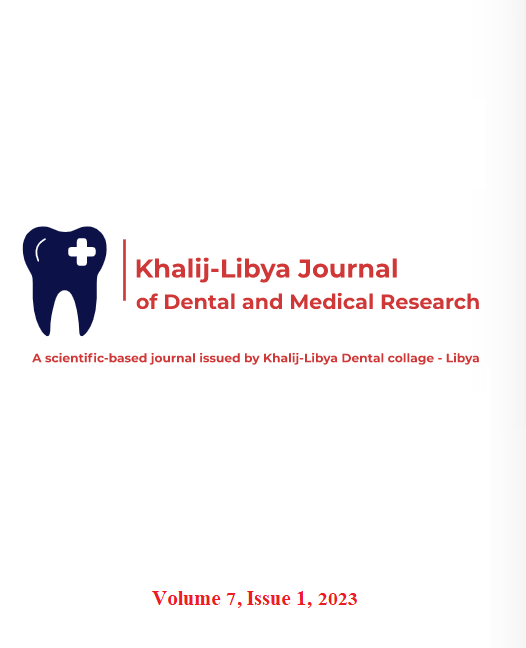 Downloads
How to Cite
Najat Abushoufa, & Wafa Talha. (2023). Knowledge of Libyan Mothers in Tripoli about Emergency Management of Dental Avulsion. Khalij-Libya Journal of Dental and Medical Research, 7–14. https://doi.org/10.47705/kjdmr.237102
License
Copyright (c) 2023 Khalij-Libya Journal of Dental and Medical Research
This work is licensed under a Creative Commons Attribution-NonCommercial 4.0 International License.